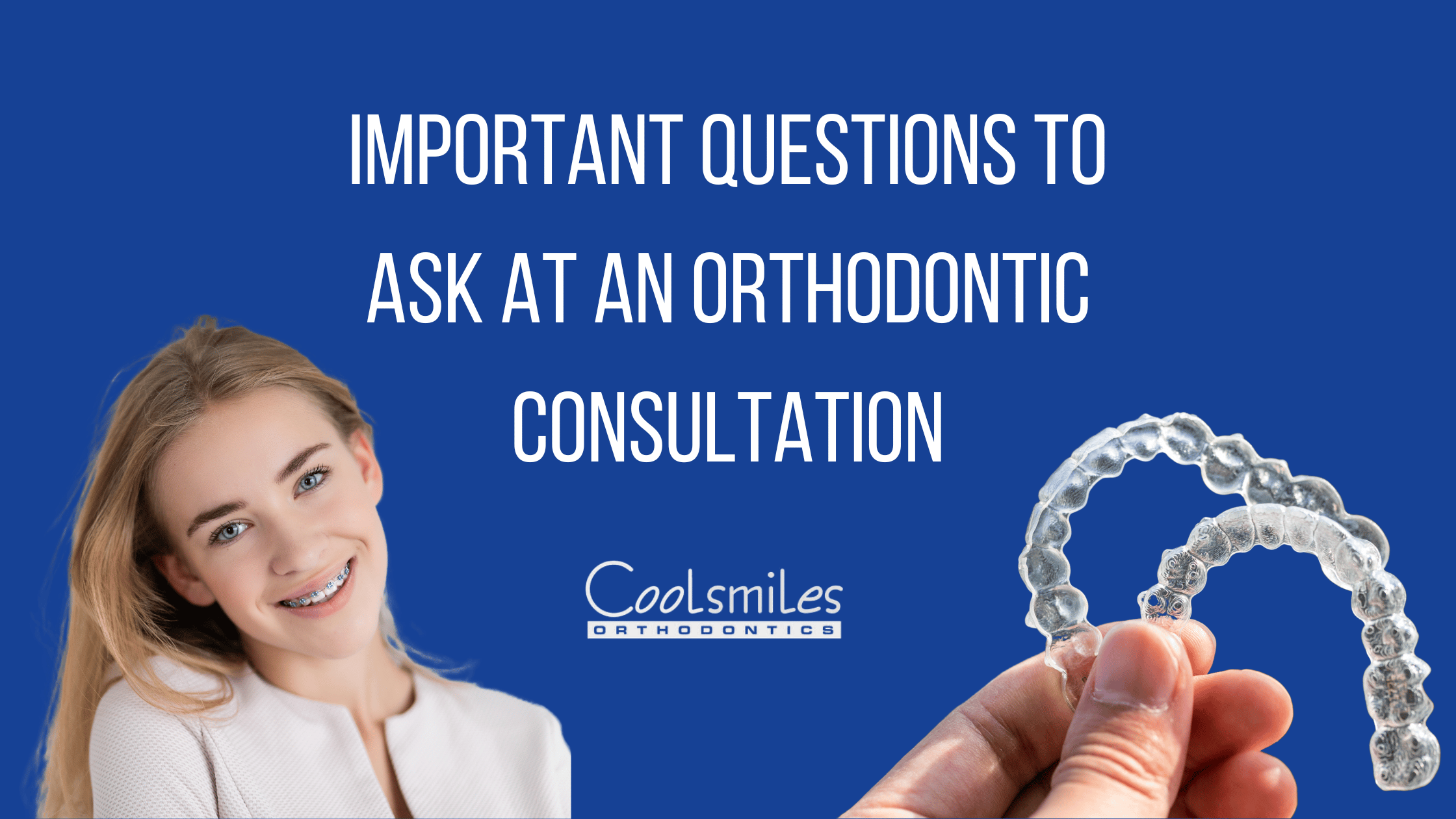 The internet makes everything so easy these days. We can order dinner, clothes, household items, even furniture online. But is it really a good idea to order orthodontic treatment online? There is no match for a trained, experienced professional when it comes to your oral health. Orthodontic treatment is not a product or device – it is a professional, medical service. 
At Coolsmiles Orthodontics, we think it's important to ask a few questions before making a decision on where you will receive your orthodontic treatment- whether it is online through a Direct-to-Consumer Company or in-person at an orthodontic consultation.
Important Questions to Ask at an Orthodontic Consultation:
Will my treatment be managed and monitored by an orthodontic specialist?
Yes. When it comes to you or your child's smile, we want you to know that we are experts in this field. We are Diamond+ Invisalign® providers and we are board-certified orthodontists by the American Board of Orthodontics (ABO).
Are you Board Certified Orthodontists?
Yes, we are board certified through the American Board of Orthodontics, which means we have voluntarily gone through hundreds of additional hours of preparation to demonstrate the judgment, skills and knowledge required for providing the highest level of patient care.

  
Are you a member of the American Association of Orthodontists?
When is the proper time to begin treatment?
The AAO recommends an orthodontic visit for children starting at age 7.
How many doctors will be treating me through this process?
Dr. David Amram and Dr. Justin Ohnigian are committed to providing excellent orthodontic care to all patients and their families. They are the only two doctors that treat our patients throughout their process.
Who put the braces on? Is it a doctor or an assistant?
At our practice, the brackets will be placed only by Dr. David or Dr. Justin.
Have you treated many cases similar to mine? 
No two people are the same, and likewise no two orthodontic treatment plans are identical. Only an orthodontist has the specialized knowledge to identify and plan for all the possible issues and outcomes that may arise. The bottom line: orthodontists know what to use and when to use it because they are specially trained with these tools and work with them every single day.
Does your office have a digital scanner or do you have to take impressions with ooey-gooey material?
Coolsmiles Orthodontics is proud to offer iTero Digital Impressions for our patients. Unpleasant putty impressions are a thing of the past with the iTero Digital system! We utilize the latest in orthodontic technology. Cutting-edge procedures, techniques, and equipment help us determine orthodontic issues with expedience and accelerate your treatment.
How much experience do you have with invisalign? 
Dr. David & Dr. Justin are Diamond Invisalign® providers– Top 1% in North America. Even though we're the top 1% provider of the country, this does not mean you'll have additional fees for orthodontic treatment. We will provide you with a peace of mind that your smile is in the best hands.
Recently the American Association of Orthodontists (AAO) put out a  Consumer Alert; it advises that when researching orthodontic treatment (including treatment models from direct-to-consumer companies like SmileDirectClub, Candid Co., Smilelove, SnapCorrect, Orthly, etc), you should consider many key questions. 
Below we've outlined what we think are the most important questions from that consumer alert. 
As part of your treatment, are comprehensive diagnostic records like x-rays taken before your treatment?

As part of your treatment fee, do you receive any in-person visits to a dentist's or orthodontist's office during your treatment?

Is only one treatment type offered (such as invisible aligners or a certain appliance)?

If a dentist or orthodontist is involved with your treatment, do you know the name of the dentist or orthodontist who will be specifically involved with your case (for example, is it available on the company's website or elsewhere)?

What are the possible risks (financial, health, etc.) associated with your orthodontic treatment?

Who is responsible for detecting any issues that may occur during your orthodontic treatment? Is it you? If it is a doctor not associated with your treatment, who pays for those check-ups?

If a doctor is involved with your orthodontic treatment, how can you contact him or her over the course of your treatment? How can you contact him or her if an emergency arises?

If an emergency arises, does the company have a dentist or orthodontist in your area that you can see in-person? If not, who would cover the costs associated with seeing a dentist or orthodontist in your area?

If you are injured or have another dispute involving your orthodontic treatment, how is it handled (litigation, arbitration, etc.) and what rights do you have? 

Does the treatment model comply with the dental laws in your state? To check your state's dental laws, click

https://www.aaoinfo.org/state-laws-and-regulations

. Information for your state dental board can be found at

https://www.aaoinfo.org/aao/state-dental-board-info

.
Ready for a NEW smile? Schedule a complimentary consultation with us today! Give us a call at: 631-289-0909 or visit us online at www.coolsmiles.com