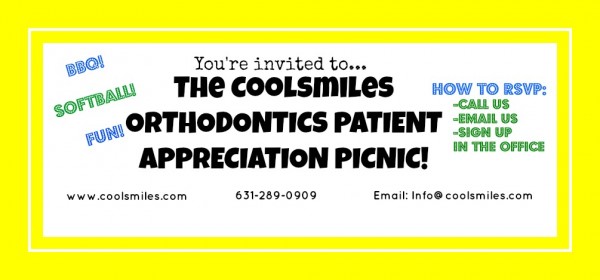 Date: Saturday, July 19th 2014
Time: 11am – 3pm
Where: Hoyt Farms, 200 New Highway, Commack, NY 11725
Coolsmiles Orthodontics, leaders in providing spectacular Long Island smiles with locations in Port Jefferson and Medford, invites all present and past patients to their 7th annual Patient Appreciation Picnic. Don't miss out on the delicious barbequing, games, an awesome t-shirt contest, and FUN!
Softball Game: The Coolsmiles team will be playing in a fun softball game. If you are interested in playing, bring your mitt and if you have them, please bring a bat, balls, and bases. Moms and dads are encouraged to join in the softball game too!
Coolsmiles T-Shirt Contest: Calling all picnic-going artists in the Coolsmiles Community! Your challenge, should you choose to accept it, is to decorate a t-shirt with Coolsmiles Orthodontics flair. Glitter, glam, graffiti… you name it. We will have a vote on the best t-shirt who will receive BEATS BY DR. DRE! The only rule: you or a family member must wear the t-shirt at the picnic to be eligible to win the t-shirt contest.
You may sign up for the picnic at the front desk at either one of our office locations, email us at info@coolsmiles.com, join our Facebook event by clicking here, or feel free to call us at 631-289-0909 to RSVP as well! Don't forget, you can bring your friends and family too. They don't even have to be our patients. J We love hosting our patient appreciation picnic and the Coolsmiles team looks forward to seeing you!