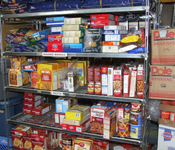 This Year Coolsmiles will be conducting a food drive in support of Long Island Cares – The Harry Chapin Food Bank.
We are asking you to join Coolsmiles in supporting this very worthy cause. It has been a rough year for many in our Long Island community. Every little bit counts… When we all work together as a community, we have the power to make a difference in the lives of those less fortunate during these tough economic times.
Click on this link to find out how you can help and to see what non-perishable items are needed 
Watch the Long Island Cares video to discover what a great service they are providing for many in our community.
We are providing  food containers for the collection of the non-perishable items in both our Medford and Port Jefferson locations.  
Bring in your non-perishable items from November 30th  – January 15th 2010 at your regular orthodontic visit  or stop by during office hours in either location to drop off your donations.  We would love to see you!
Everyone at Coolsmiles counts our blessings every day.  We are very fortunate.  Supporting the Long Island Cares Harry Chapin Food Bank during the holidays is just one more way we can help those less fortunate in our community.
Let us know if someone you know has benefited from the services provided by Long Island Cares or what you are doing to help others in our community.  Please leave a comment below to share with everyone.