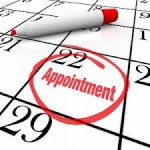 The goal of our schedule is twofold.  We are committed to provide the high level of clinical care that you have come to expect from our practice and try to be as convenient as possible.  The Coolsmiles team knows you are very busy and we want to respect your time.  So how do we create our schedule? If you can understand and answer this question, it will help to make certain that your treatment goes as easily as possible.
At Coolsmiles Orthodontics, many hours have been spent "building" our schedule. Each appointment has been broken down, analyzed and frequently timed to come up with averages. We have determined how many of each appointment type is needed. We then specifically combine the appointments to come up with our "grid" for each day. It's like a giant puzzle!
Long appointments, braces on or off, delivery of appliances: These are more detailed and technique-sensitive appointments. These appointments are scheduled during our quieter morning hours when we can concentrate our attention to complex clinical tasks. With our extended hours on Monday in Port Jefferson and Thursday in Medford, some of these appointments are occasionally available after school hours.
Adjustments: The majority of your appointments will fall in this category. They are short and simple and are scheduled at all hours of the day.
Emergency Appointments: (Pain, swelling) This usually results from trauma or injury to the face or mouth. Patients will be seen as soon as possible, given appropriate care or referred to another specialist for necessary treatment.  Please understand that while we will always see you or your child immediately for emergencies, our goal is eliminate the discomfort.  Additional longer daytime appointments are needed to replace broken appliances.
If an orthodontic emergency arises where the patient is in pain after hours, please contact our office. One of our doctors can always be reached via their cellphones by listening to our after hours telephone message.
Repairs: (Loose bands or brackets, broken wires, ties or appliances) These appointments take extra time. Please be sure to call and let us know when something is loose or broken so we can schedule an appointment to make the repair or check that there is plenty of time in an upcoming appointment to take care of the problem. This will help minimize your number of appointments or save you time while in the office.
We know that morning or early afternoon visits may not be ideal for everyone.  Therefore, we only schedule our longer appointments during school and work hours in order to enable all of your routine appointments to be done at your convenience.  Please bear in mind that our schedule is prepared on a 6 to 8 week basis.  In order to accommodate your preferences, it is vitally important that you schedule your next visit prior to leaving the office.
We are continually revising our scheduling templates and appreciate your understanding and flexibility, especially during the winter snow season.
Serving the Medford and Port Jefferson NY areas on Long Island- Coolsmiles Orthodontics offers one on one personalized care with braces and Invisalign for children, teens and adults. Call us, at 631-289-0909.