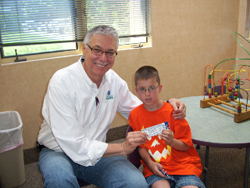 For the past two weeks, orthodontist Dr. Leon Klempner and Dr. David Amram have been drawing winning numbers for 2 Free tickets to a Mets Game with Coolsmiles Orthodontics on August 20th.  There will be a total of 50 lucky winners.
Take a look at one of our first winners, Nicholas, collecting his 2 free tickets from Leon. He and one of his parents are going to the game.  Keep watching our blog, coolsmiles facebook, and coolsmiles twitter to find out if your name is drawn in the coming weeks.   New winners are picked every Friday….
Who knows… you may be a lucky winner too!  To check out if you have one of the lucky numbers, go to this page….