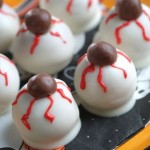 At Coolsmiles, Orthodontists Dr. Leon Klempner and Dr. David Amram understand Halloween is a favorite holiday for kids.  But Halloween treats can easily destroy orthodontic braces if you aren't careful what you are eating.
If your child is among the 4 million patients in North America who wear braces or a retainer, watch the video to the right put out by the American Association of Orthodontics and the Food Network on what to watch out for before and after the Halloween season.
At Coolsmiles, we stress the importance of following a brace safe diet eliminating hard, sticky, or chewy candy from your Halloween bags.   They could bend the wires or damage the brackets which is no small thing, considering the cost of treatment and the inconvenience of making an extra trip to the office to repair the damage with a busy family schedule.
Here is a Coolsmiles favorite recipe to grab attention at a Halloween Party or just fun for kids of any age.
Eyeballs
You won't believe your eyes how fast these sweet treats will disappear – even with all those veins.
1 cup creamy peanut butter
1/2 cup unsalted butter, softened
2 to 2 1/2 cups confectioners' sugar
1 bag (12 ounces) white chocolate chips
2 tablespoons solid vegetable shortening
1 tube each red, white and green decorating frosting
36 brown M&Ms
Stir peanut butter and butter in a medium bowl until smooth. Gradually add confectioners' sugar until thick and smooth and well combined. Mixture should be thick and easy to roll into balls.
Line a baking sheet with waxed paper. Shape mixture into 36 1-inch balls. Place balls on prepared baking sheet and refrigerate about 1 hour or until firm.
Meanwhile, melt white chocolate with shortening over a double boiler until smooth.
Carefully drop chilled peanut-butter balls into chocolate to coat, and scoop them out with a fork, letting excess drip off through the tines (be careful not to stick the balls). Return the balls to waxed-paper-lined baking sheet; refrigerate until set.
Squeeze frostings into separate zip-top bags. Snip a very small corner from each bag. Pipe red frosting lines from center out for veins; pipe a dot of green frosting on top.
Place M&M in center and pipe a white line on one side of it. Refrigerate until ready to serve.
Let us know how this recipe worked out for you or share your own brace safe Halloween recipes.  Comment below.
By the way – Don't forget to brush really well 😉