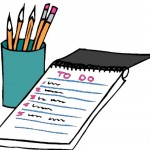 Leon Klempner took time out of his personal schedule  on Saturday April 25th, 2009 along with Marci to lecture on a very important topic today… How To Successfully Interview For A New Job. He spoke to a group of women at the Town of Brookhaven offices located in Farmingville, NY.  The Dress For Success program was funded by the County for woman re-entering the work force.
It was such a hot topic…  the fire department was called to check it out!  For some reason, the fire alarm went off during the discussion which put the lecture on hold till the fire department checked it out.
Leon gave a one hour presentation on "Dress For Success".  You can read about the highlights of his lecture in his article "10 Tips to Guarantee a Successful Interview – Your Interview Cheat Sheet.
Tell us what you think about the article.  Comments welcome….