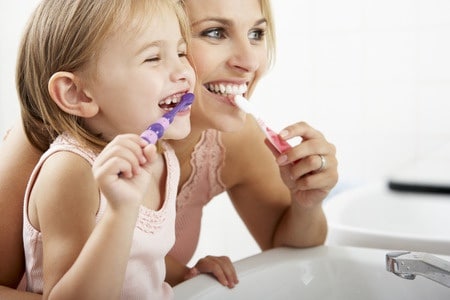 The foundation for healthy teeth is established during the first years of life.
Making healthy food choices, brushing well, seeing the dentist for regular checkups and visiting the orthodontist for a healthy bite are all practices that prevent issues with your little one's tiny teeth now, and ensure the development of strong and healthy permanent teeth. Parents serve as role models for this behavior — for better or for worse, children learn best through imitation. Consequently, involvement in your child's oral health is key during the early years.
Here are some tips for parents of young children, to help keep your little ones' oral health on the right track:
As soon as the first teeth show up, parents should begin brushing them or wiping them with a washcloth, especially after milk and before bedtime. Let your child see you brushing your teeth. Good habits are learned early!
Brush your child's teeth yourself twice per day (if you can!) until about age 2. When they start wanting to brush themselves, encourage them by brushing and flossing together (but be sure to re-brush the hard-to-clean areas of your child's mouth).
At age 7, children are usually able to brush their teeth well on their own. In this phase, parents should continue supervising regular brushing efforts. This is also the time for an initial consultation with an orthodontist to ensure that your child's teeth and bite are tracking with their growth. Often, early intervention by an orthodontist can prevent issues from occurring, ultimately shortening orthodontic treatment time.
If you've been in treatment before and have been considering getting your straight smile back, now is the time. Set up an appointment for both you and your child so you can go through the process together.
At Coolsmiles we are committed to providing each of our patients with a unique experience by treating them with respect in a caring, compassionate and warm atmosphere. We work hard to make your experience fun, affordable and convenient. Coolsmiles is at the cutting edge of orthodontics, providing the highest possible quality, technology and service for improved oral health, self esteem and a beautiful smiles that last a lifetime.
Click below to request an appointment for a free smile exam!