Adults no longer need to be embarrassed about their smiles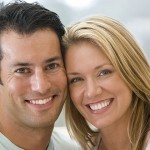 We know that many adults are living with crooked teeth because their parents could not afford orthodontics years ago. We also know that many adults are self-conscious about their smiles and are uncomfortable in many social situations because of their teeth. With the orthodontic treatment technology available today, any adult can undergo orthodontic treatment without being self conscious or embarrassed. We are proud to say that Coolsmiles Orthodontics offers many treatment options with the needs of adults in mind. Dr. Amram, Dr. Klempner and Dr. Arbitman offer state-of-the-art treatment options such as Invisalign, the transparent straightening system. This revolutionary technique not only significantly reduces treatment time and discomfort during treatment but also provides patients with options to discreetly achieve the smiles they've always wanted.
At Coolsmiles Orthodontics, we know that your time is valuable. You may think that you don't have time in your busy life to begin treatment. We respect that and will work with you to design a treatment plan that is quick, comfortable, and fits into your schedule with ease. Have you hesitated to take the first step towards achieving a straight smile and beginning orthodontic treatment? Scheduling a complimentary consultation with Coolsmiles Orthodontics is the first step towards a beautiful, healthy, attractive smile. The doctors at Coolsmiles are specialists in orthodontics with two to three years of additional training after dental school. They have treated over 500 adults with Invisalign and have earned "Elite" status for Align Technology.
Call us today for a free consultation in our Medford office location, 631.289.0909 or our Port Jefferson location, 631.928.9800.
Coolsmiles Orthodontics serving Medford, Port Jefferson, Stony Brook, Coram, Setauket, Mount Sinai, Miller Place, Smithtown, St. James, Holbrook, Bellport, Patchogue and the surrounding areas.