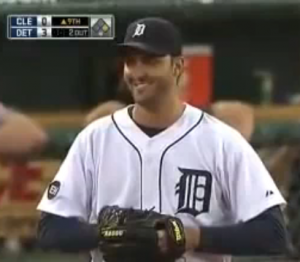 Dr David Says…
This past week there has been a great deal of conversation regarding the events surrounding Detroit Tigers pitcher Armando Galarraga, and the perfect game that wasn't.  But before I talk about Mr. Galarraga, lets go back in time a little.
The first perfect game that I can remember was thrown by David Wells of the New York Yankees on May 17, 1998.  I remember that on that day friends of mine picked me up from my apartment in Boston.  I was days away from graduation at Harvard.  As we pulled up to may parent's house in Queens, my father was waiting in the driveway with a huge smile on his face.  "Guess what!" he said, smiling as he described David Wells' perfect game.  I have no recollection of any pitches thrown by David Wells.  Not the celebration.  Not what the ESPN commentator said.  Nothing.  I remember my father's smile.
So back to the Detroit Tigers pitcher Armando Galarraga.  I am sure you have all seen the YouTube video by now.  A deserving young pitcher is about to become only the 21st  pitcher in the history of baseball to pitch a perfect game.  He steps on first base for the final out, raises his arms in celebration, glances over to the umpire…….and his face goes blank.  Then he smiles.
Robbed of baseball immortality Mr. Galarraga had every right to do what I have seen athletes do since I was a child.  Yell, scream, kick dirt, right?  Nope, Armando Galarraga smiled.  A smile that said "You can't take this away from me, I have reason to be proud."
That night umpire Jim Joyce who had made the wrong call that cost Armando Galarraga the perfect game, apologized.  He admitted his mistake.  He did not say "I was misquoted, I misspoke, or I have an addiction," as so many of our public figures do when their mistakes are made public. 
"It was the biggest call of my career, " Joyce said, "I just cost that kid a perfect game." 
The next night Joyce and Galarraga met at home plate as the pitcher presented the umpire with the Tigers' lineup card for the game against the Cleveland Indians. Joyce shook hands with Galarraga and patted him on the shoulder.
There were cheers when Joyce appeared!  Cheers!
Over the weekend my 5 year old daughter asked me about what was going on as I watched Sports Center and the images of the Tigers players played on the screen.  Each player with their hands on their heads in exasperation. 
I explained to her that the umpire made a mistake.  A big mistake, and he apologized.  The player, and the city of Detroit forgave him.  We spoke about sport being about competition, and trying your hardest, always.  But, sometimes your hardest is not good enough.  That is even true for the umpires.
I then paused the screen, and told Juliette to look at the smile on Galarraga's face, and I thought of my father. 
I have been blessed to have seen many great moments in sports history.  I remember the Mets winning the 1986 World Series, and Team USA's Miracle on Ice in 1980.  I remember Michael Jordan breaking my heart as a rabid Knicks fan, over and over.
This moment between Armando Galarraga  and Umpire Jim Joyce was special, because it brought sport back to what it should be for me. For a moment it was not about big business, money, and spoiled athletes.  It was about competition, family, effort, triumph, failure, forgiveness and self fulfillment.  But, mostly, I'll never forget the smile on the face of Armando Galarraga.  It was perfect!