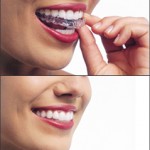 As the demand for braces continues to increase to achieve a more vibrant and beautiful smile in today's aesthetic conscious society, technological advances have made it possible for the orthodontic process to be more comfortable and less embarrassing for patients who want to improve their appearance. 
One very popular method of straightening teeth for Teens and adults is Invisalign®.  It's offered as an alternative to traditional metal braces. Invisalign is a see-through aligner that is often referred to today as "invisible braces."  81% of Invisalign patients writing reviews are glad they chose Invisalign as an orthodontic treatment option. 
What Can Invisalign Correct?
When you make your first appointment at Coolsmiles Orthodontics, you will consult with one of our orthodontists Dr Leon Klempner or Dr David Amram to determine the right orthodontic procedure for your personal needs. Invisalign is best used to correct common orthodontic problems including crowding and spacing between teeth. More severe orthodontic issues, especially those that require extractions, may require a different type of orthodontic treatment. We will advise you on how best to proceed.
How Does Invisalign Work?
If we determine you are an Invisalign candidate, we take an impression of your teeth to create custom aligners. Once received, you must wear your prescribed aligners for approximately 22 hours per day, removing them only to eat and brush your teeth. You change aligners every 2 weeks and visit our office for regular checkups to follow progress. Cooperation during treatment by following our instructions is the key to a good orthodontic result.  Full treatment will last from 6 – 18 months, depending upon your individualized treatment plan to correct your problem.  Once full treatment is completed, you will be directed to wear finishing aligners indefinitely at night to maintain the correction long term. 
What Are the Benefits of Invisalign?
With the many different orthodontic products now available, you may wonder why you should consider using Invisalign to straighten your teeth:
Comfort–Overall, orthodontic patients report less discomfort when using Invisalign than traditional metal braces. This may be due to the fact that the material used to make your aligners causes less friction and force than metal braces and wires. The Invisalign system moves your teeth slowly, using less pressure and force than other orthodontic options.
Discretion–Invisalign has a clear advantage over traditional orthodontics; the aligners are see-through and nearly undetectable. This makes it popular with teens and adult patients who do not want others to know they are undergoing orthodontic treatment.
Convenience–unlike traditional braces, which often dictate the foods you eat, the aligners should be removed while you eat and brush your teeth. This allows you to brush thoroughly and floss regularly without the worry of getting food stuck between your teeth, contributing to proper oral hygiene.
If you are in need of orthodontic treatment, and you are curious about the Invisalign treatment method, then you should consult with an orthodontic professional who is advanced trained in tooth movement.
An orthodontist is a dentist, but only 6% of dentists are orthodontists. Unlike a general dentist, an orthodontist is a specialist in the diagnosis, prevention and treatment of dental and facial irregularities. An orthodontist must successfully complete an additional three-year orthodontic residency program today to call themselves an orthodontist.
At Coolsmiles, we will help you determine if Invisalign is your best treatment option.  Contact our office for a FREE new patient consultation.  Now it's your turn to find out how we can help you achieve the smile you always wanted.